Varied backgrounds for the diverse needs of individuals and businesses
The cultural mix among the attorneys and staff at The Law Offices of Nina Mawby reflects the firm's passion for opportunity and immigration rights in the United States, and for assisting businesses to operate worldwide. Of the four lawyers at the firm, two come from the United States, while the other two attorneys went through the immigration process themselves, one arriving from Iceland and the other from Iran. Languages spoken at the firm include English, Spanish, Farsi, French, German and Icelandic.
The Legal team at Law Office Of Nina Mawby
The legal team at The Law Offices of Nina Mawby is dedicated to facilitating personal and commercial opportunities in the area. They help individuals and businesses achieve their Immigration and International goals. To discuss your objectives with an experienced Immigration or International attorney,
contact the firm online
or call (877) 847-2529.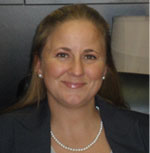 Nina Mawby, Owner
Born: Reykjavik, Iceland, 1978
Practice areas:
Immigration law
Admitted to practice:
Oklahoma, 2005
Professional memberships: